Sponsored in part by BankESB, MCarthy's Pub,Cindy Brown, Mill Valley Splicing,1st Student Bussing,BCTV and Ken Hislop
The Belchertown Fair is no exception. The annual "Fair Day Parade" is held on Fair Saturday starting at 10 AM sharp. Enjoy a pre-parade concert on the lawn of the Clapp Memorial Library by the award-winning BHS Marching Band to kick off the festivities. The parade route starts from the staging area on South Main St and runs North along the Common on Main St and then to the corner of Rte 9 and 202. You are cordially invited, as a parade participant or as one of the thousands who line the parade route ready to clap and cheer for their groups, causes, friends and neighbors. Parade entries get bigger and better each year as they incorporate the theme. This year's theme is Undetermined. Get creative and have fun with the theme! There is a Special Judges Award for the best presentation of the theme. The theme of the 164th Fair & Parade is "BLUE JEANS and Fair DREAMS."
The Parade steps off promptly at 10 AM on Saturday morning. The parade route is very busy. All parade participants are requested to be in place NO LATER THAN 9AM. If you have a large float please plan on being there earlier.
If you are a spectator, we recommend you settle into your favorite spot. Breakfast picnics have become quite popular for the pre-parade wait. And, of course, don't miss the BHS Band concert at 9:30 on the Clapp Memorial Library Lawn.
THANK YOU FOR YOUR INTEREST and PARTICIPATION IN THIS YEAR'S PARADE. For information about participating in the parade, call Loni at 413-218-0763 or Scott at 413-885-3420 or. Participants should be there early. Participants should plan on being in place by 9:00AM, earlier if you have a larger float. This is a large parade. If you are a participant look for the parade staff in your section in the bright yellow Tee shirts. If you are an observer, sit back and enjoy the fun.
PLEASE DRIVE SAFELY WHETHER PICKING YOUR SPOT OR GETTING IN LINE, THE PARADE ROUTE IS CONGESTED AND HAS MANY VEHICLES AND PEOPLE ON THE ROAD.
IF YOUR TRAVELS TAKE YOU SOMEWHERE ELSE ON PARADE MORNING,AVOID THE TOWN CENTER BETWEEN 9 AM and12:30 PM BY USING ALTERNATE ROUTES SHOWN ON THIS DETOUR MAP. Detours-2023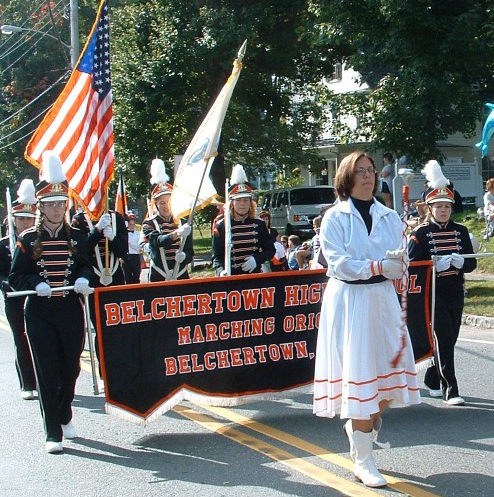 1.THE EASIEST WAY IS TO COMPLETE THE ON LINE PARADE APPLICATION BELOW. It will automatically be submitted to the Parade Director and save you a stamp. You will get an online confirmation.
2. Or download and complete the paper copy located below the electronic form.
3. Mail the fully completed application by September 15 with a detailed write up of your entry for the announcers to read from the reviewers stand to Belchertown Fair Parade,PO Box 670, Belchertown, Ma 01007.
4. You will receive an email confirmation that your entry has been received.
5. The Parade line up will be posted on the website on on September 18. Late entries will be placed at the end of the parade.
6. 5 days before the parade, you will receive an email indicating that the parade line up has been posted on the website.
7. In the meantime, put your thinking caps on and create an entry that will tell the audience about you, your group or your message.
1.Parade winners will be posted by 3:00PM at the Gazebo.
2. Winners in the categories of antique cars, trucks, tractors, emergency apparatus, professional and amateur marching units can pick up their ribbons and cash awards between 3:00-6:00PM. A W-9 is not necessary if you pick up in person at this time. After 6:00 PM ,ribbons may be picked up, but a check will be mailed to the winner only after a completed W-9 is received.
3 All other winners, floats and bands may pick up their ribbon at the Gazebo, but payment will be made after the Fair by check and will require a completed W-9.Blank-W-9-PDF
4. If you need more info, do not hesitate to call Scott Brown 413-885-3420 or Loni Austin 413-218-0763.