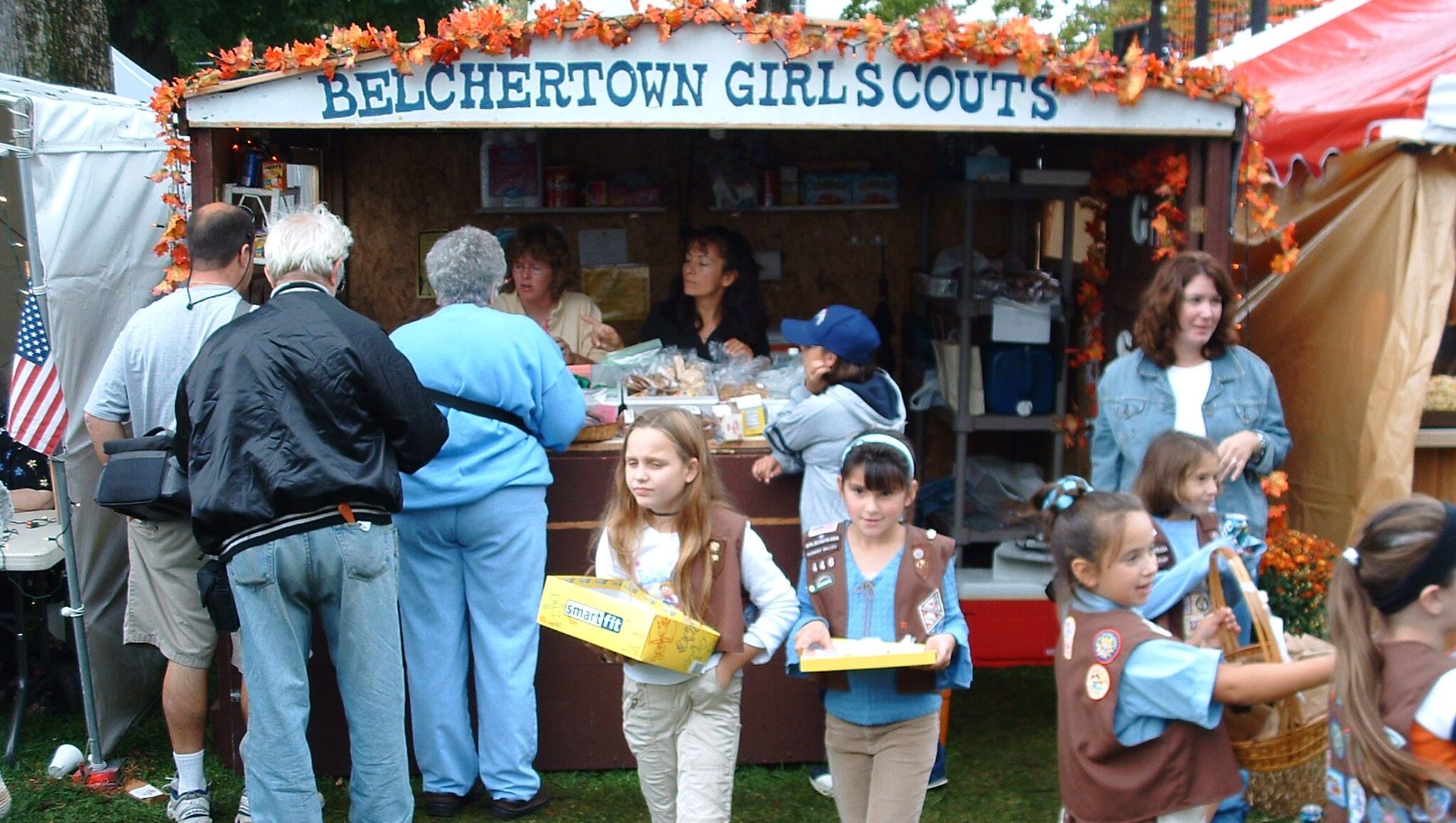 Belchertown Fair & Parade is a family oriented, community event which started as an agricultural gathering 164 years ago. Although we have added many activities over the years, we remain true to our small-town roots. The goal is family participation in a safe environment at a reasonable cost. There is no admission and many free activities including music all weekend long. All of this adds to a continual stream of fair goers seeing what else there is to eat or purchase. We want it to be fun for vendors as well as fair goers.
Each year we have new and returning vendors. We do the best we can to place you in a compatible spot.
We cannot guarantee that you will have the same space as last year. Because the fair is held on the common, which is populated with new and old trees, we require flexibility in booth placement.
Please do not assume that you can have a bigger spot if you are a returning vendor. We are working with significant space limitations.
Tents which have cooking underneath them must comply with Ma fire safety requirements. This impacts the availability of space as well as location. Any questions? contact Cindy at 413-896-0883.
Do not wait too long. We fill quickly and move to a wait list only situation. We will be expanding our operations to make us more ecologically responsive. We support all efforts that are mindful of our need to protect our environment. We ask that no Styrofoam be used this year. All food and beverage containers should be biodegradable. We are currently exploring handling of our trash. More info will be shared as this area develops.
Each year we sponsor a Decorated Booth Contest which uses the theme of the Fair in the booth presentation. There are winners, for adult and youth with each group receiving $50 refund. This makes the fairgrounds more fun and encourages fair goers to take a closer look at each vendor and what they have to offer. The theme of the 2023 is "BLUE JEANS & FAIR DREAMS".
 What do I need to do to become A Vendor?
Review "Frequently Asked Vendor Question 164th Application Letter164th Application Letter-doc. If you continue to have questions, contact Cindy Brown at 413-896-0883.
Download and complete the 164-Booth-App
Send Vendor Application with the appropriate payment to Belchertown Fair,PO Box 670, Belchertown, MA, 01007 Attention Cindy
If appropriate, download and complete the 2023 Temporary 2023 Temp Mobile Food Permit application. BOH application must include Serve Safe Certificate and Allergan Awareness Certificate. To Obtain Food Allergen Awareness Training (with certificate) Forward with payment to BOH, PO Box 670, Belchertown, MA. For Questions call Board of Health 413-323-0406.
Please review Check List and Guidance for Food (2023)
If appropriate download and complete FIRE PERMIT Application Fair Forward with payment to the Fire Department, PO Box 1074, Belchertown, Ma
You will receive a written confirmation when your fair vendor application is approved.
Do not set up until you have checked in at the Gazebo to ensure there have been no changes during marking spaces.
Set up times.
Weds Noon-5PM

Thursday 9Am-6PM

Friday 8AM to NOON

Inspections are between Noon and 3 PM